Since starting on our homeschooling journey I have found the
Confessions of a Homeschooler
blog, along with a few others very helpful. Giving me a ton of ideas, lots of insight and just generally helping me feel like I am heading in the right direction.
I have been trying to find lots of crafts and activities to do for December so that we can go with a sort of abbreviated schedule for the month (keeping up with our math, writing and reading). So when I saw this idea I was so excited! Super fun, super easy and easily adaptable for different ages.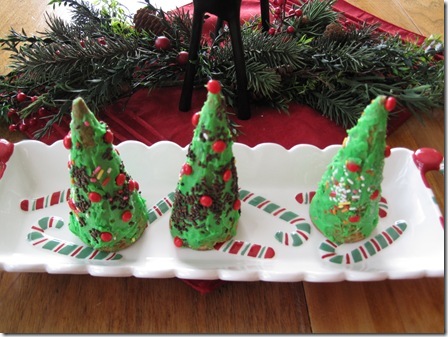 *picture from Confessions
Edible Christmas Trees! All you need is the sugar type ice cream cone, green frosting (a little bit of food coloring in some white frosting), and ornaments, such as sprinkles and small candies.
This will hit the 3 big things that make my kids happy.
1. messy
2. fun
3. sugar
Can't wait to make them!
'til next time
me